Анализ тенденций развития. Обзор патентной и научно-технической литературы
. The stirrer of claim 14 and means for varying said predetermined order to cause said rod to follow any of many alternative patterns of rod motions.
. The stirrer of claim 14 wherein said digital means comprises two driver means, each of which controls the energizing sequence of one half of said coils, steering means for synchronizing said two drivers to energize said coils in either of two orders for driving said stir rod in either of two directions.
. The stirrer of claim 16 and timer means for cyclically operating said steering means to sequentially reverse the directions in which said stir rod is driven.
. The stirrer of claim 17 wherein said digital means also includes a pulse source having a variable pulse repetition rate, and means controlled by said timer for varying said variable repetition rate in a manner which speeds up the movement of said stir rod after each operation of said stir rod after each operation of said steering means and slows down said movement of said stir rod before each operation of said stir rod.
. A stirrer comprising a plurality of linearly-oriented, magnetic pole pieces, digitally controlled means for sequentially energizing said pole pieces to create a linearly moving magnetic field, means for positioning a mixable substance in said field, and a magnetic stir rod positioned with said mixable substance for moving said mixable substance linearly as said stir rod moves back and forth past said linearly-oriented pole pieces.
. A digitally controlled device comprising a plurality of electromagnetic means positioned to generate separate magnetic fields in a geometrical pattern, a magnetic stir rod, a non-magnetic surface positioned to support said stir rod under gravity adjacent said plurality of magnetic means with an orientation wherein said pattern of magnetic fields coincides with said surface, and digital control means for selectively and individually energizing said electromagnetic means to step said fields in said pattern whereby said stir rod moves in the pattern established by the stepping of said field.
| | |
| --- | --- |
| United States Patent | 5,176,446 |
| Chiba , et al. | January 5, 1993 |
Magnetic type agitator which is capable of generating ultrasonic wave magnetic type agitator, is provided which has a magnetic agitator element disposed in a magnetically permeable vessel, and a magnetic rotating plate rotatably coupled to the bottom of the vessel. The magnetic type agitator is improved according to present invention in that it further includes a thin ultrasonic vibrating element fixed to the bottom of the vessel, the magnetic rotating plate being placed so as to permit the magnetic force from the magnetic rotating plate to effect the magnetic agitator element, thereby permitting simultaneous agitation and ultrasonic vibration of the liquid in the vessel.
| | |
| --- | --- |
| Inventors: | Chiba; Shigeru (28-1-1 Sannoucho 4-chome, Minami-ku, Yokohama-shi, JP); Ito; Kazuo (28-1-1 Sannoucho 4-chome, Minami-ku, Yokohama-shi, JP) |
| Appl. No.: | 747205 |
| Filed: | August 19, 1991 |
| | |
| --- | --- |
| Current U.S. Class: | 366/114; 366/274 |
| Intern'l Class: | B01F 011/02; B01F 013/08 |
| Field of Search: | 366/273,274,127,128,108,110,111,113,114,115,116,117,118 68/3 SS |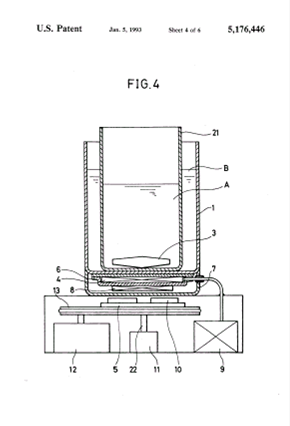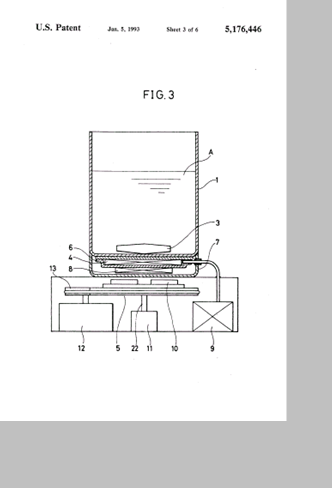 References Cited [Referenced By] <C:netacginph-Parser?Sect1=PTO2&Sect2=HITOFF&p=1&u=%2Fnetahtml%2Fsearch-adv.htm&r=0&f=S&l=50&d=CR93&Query=ref5,176,446>.S. Patent Documents
| | | | |
| --- | --- | --- | --- |
| 2655011 <C:netacginph-Parser?Sect2=PTO1&Sect2=HITOFF&p=1&u=%2Fnetahtml%2Fsearch-bool.html&r=1&f=G&l=50&d=PALL&RefSrch=yes&Query=PN%2F2655011>Oct., 1953Ihle366/274. | | | |
| 4199265 <C:netacginph-Parser?Sect2=PTO1&Sect2=HITOFF&p=1&u=%2Fnetahtml%2Fsearch-bool.html&r=1&f=G&l=50&d=PALL&RefSrch=yes&Query=PN%2F4199265>Apr., 1980Sanderson366/274. | | | |
| 4979829 <C:netacginph-Parser?Sect2=PTO1&Sect2=HITOFF&p=1&u=%2Fnetahtml%2Fsearch-bool.html&r=1&f=G&l=50&d=PALL&RefSrch=yes&Query=PN%2F4979829>Dec., 1990Allen366/118. | | | |
| 4991973 <C:netacginph-Parser?Sect2=PTO1&Sect2=HITOFF&p=1&u=%2Fnetahtml%2Fsearch-bool.html&r=1&f=G&l=50&d=PALL&RefSrch=yes&Query=PN%2F4991973>Feb., 1991Maaz366/274. | | | |